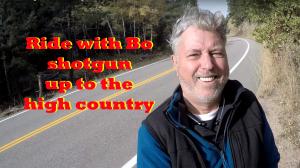 URL if video player does not appear above - https://youtu.be/Fuyl4_IXJyc
Click Here
Come along and ride with me as I go up to the high country in West Boulder County to see what is left of the autumn colors and try and find that last of the fall season fine art nature landscape shots. The route was starting up Left Hand Canyon located between Boulder Colorado and Lyons Colorado. Next we took the Peak to Peak down the south St Vrain Canyon aka highway 7.
Decided to take the side road and go through the beautiful small mountain community of Raymond and Riverside. Check out some of the NEW images I pulled out of this trip. Hope you enjoy and thanks for watching vLog 10.16.19.
For more please subscribe, like and share.
Your support is very much appreciated!
Know any one that needs Art? makes GREAT gifts too!
Check out Bo's Nature Landscape Photography iGallery:
https://www.ColoradoNatureArt.com
http://www.BoInsogna.com
http://www.MrBo.com
Facebook https://www.facebook.com/StrikingPhotographybyBo
Instagram: @strikingphoto
Twitter @bophoto